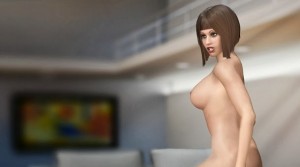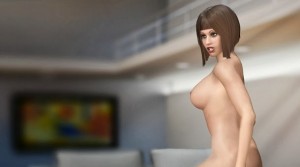 Cybersex needs a model, your avatar. Now it´s time to create your own model and it´s time to open a new world – the world of models. It´s fantastic what you can do with your model – changing her body, her clothes, her character. Step by step you can create your dream girl and have cybersex. Here you get a list with all options you can do – try out and conquer the 3d world of Chathouse 3d.
Start your game Chathouse 3D, choose your character and start playing.
Click on the Browser icon on the top right hand corner:
Click on the Customizer Tab (fifth tab/button on the top – looks like a Pad with a Pen)
Here you have the options to customize the mood of your character, body parts, outfits and also create a profile fitting your model
Your character will stay with your set customization till you change it again. Now enjoy the possibilities of Chathouse 3D and make your dreams true. Conquer the chat room and have scandalous cybersex with other players.
Mood – This is the basic emotion you set for this character. By clicking on the icon 'Mood' you can open the drop-down window of the Facial Expression. Click on one to change the mood
Face – Here you can modify with the sliders the age, facial features, brows, cheekbones, eyes, head, mouth, etc.
Make up – Choose your favourite make up by using the sliders for the most detailed Eye Makeup and Lips
Eye, Eyebrow, Eyelash: With these tools you can customize Eye color, Eyebrow shape and color, Eyelash shape and color
Freckles – Choose if, how many and what color your freckles should be
Teeth – Choose the type and perfection of your models teeth
Hair – Select different hairstyles, hair color and shininess
Beard – Here you can choose different beard types, change the color and visibility
Body – Vary the characters skin-color and amount of muscles
Breast – You can modify every part and muscle of the chest with the sliders
Fingernail – Choose the length, roundness, shininess and type of your nails
Toenail – Choose a color and visibility for your nail polish
Genitals – Select the color/color intensity of the glans and your penis; choose a pubic hair style, color and visibility
Outfit – Here you have a wardrobe of different, tops, pants, shoes, underwear etc.
Outfit Details – Create your personalized outfit by changing the colors and patterns of the outfit
Profile – Add life into your character by creating a detailed profile; Name, Age, Occupation, Personal Status, Nationality etc.